Veteran Member
Join Date: Apr 2008
Location: SLC, UT
Posts: 1,402
Mentioned: 0 Post(s)
Tagged: 0 Thread(s)
Quoted: 0 Post(s)
An attempt of Wolverine Bowl
---
I went to Wolverine Bowl last year and decided this morning it would be a fun mellow place to go since I was rolling solo. I tried a new approach since snow level are still low and this was a mistake.
Coming over the ridge I was in treat for a nice view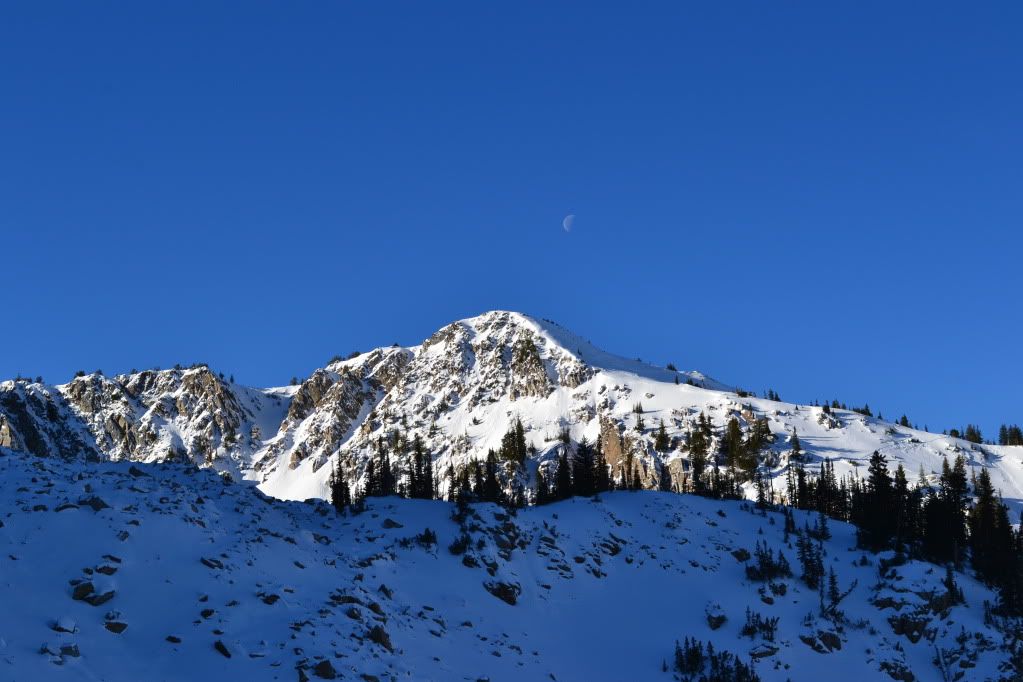 Looking into Stupid Chute the skin track went up so I was slightly concerned about it.
Once I was in the chute, went out of the skin track and wanted to go above the skin track to see if I could get anything to move. Well I did and about 9" of new snow just slipped out under my skis. This was great concern and I opted to turn around at this point. I probably would have been fine, but I wanted to play it safe since I was solo. No photos were taken inside the chute due to wanting to get out of the exposure as quick as possible.
I went over to another ridge and got some really good turns and disappointed I didn't lap the area all day.
The peak in the middle is Wolverine Bowl, the area I wanted to hit. Now I know not to ever go the way I went and will go the regular way when approaching from Brighton. The turns looked good, but there will be other days to get good turns in there.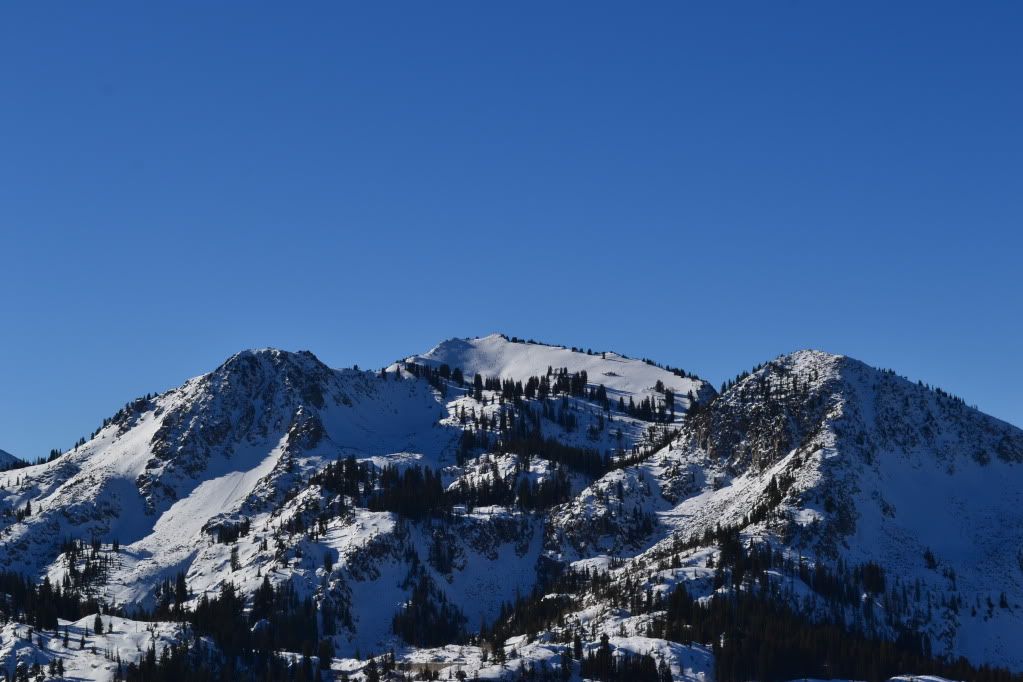 I do know once we get a good size storm it is going to be scary out there.
Veteran Member
Join Date: Apr 2009
Location: Denver
Posts: 2,967
Mentioned: 0 Post(s)
Tagged: 0 Thread(s)
Quoted: 0 Post(s)
Whoaaa that Bowl has some serious versatility in terrain..... That would be mega fun with a lot of snow

Did you crush your board? Only looks to have inches on it
---
"When I do good, I feel good; when I do bad, I feel bad. Thatís my religion." - Abraham Lincoln
Quote:
Moral of the story: If your going to rob people, wear a diaper.
Veteran Member
Join Date: Apr 2008
Location: SLC, UT
Posts: 1,402
Mentioned: 0 Post(s)
Tagged: 0 Thread(s)
Quoted: 0 Post(s)
Nah the peak in the middle with all of the snow is what I was planning on riding. There are some fun lines in that last photo. There are two lines I really want to ride this year, seagull which is the chute in the middle of the mountain on the left and escalator which is in the middle of the peak on the right.

From looking at the tracks coming down the middle it appears wolverine has enough snow on it.
Veteran Member
Join Date: Apr 2008
Location: SLC, UT
Posts: 1,402
Mentioned: 0 Post(s)
Tagged: 0 Thread(s)
Quoted: 0 Post(s)
Yea I went another way than the way you normally go. I went to the right of that peak since I wanted to get a better view of how Wolverine Cirque is looking. That was my mistake. This forced me to skin or boot pack up one of the steep chutes. Lesson learned go the way you're supposed to which is up the peak to the right and down the it and stay on ridge lines the entire time.
-LIFETIME MEMBER-
Join Date: Sep 2011
Location: We've gone full Utard
Posts: 1,416
Mentioned: 6 Post(s)
Tagged: 0 Thread(s)
Quoted: 133 Post(s)
Cool man great pics wish I could have been there with ya but the backcountry class at Brighton was really helpful in connecting some of the dots from "Staying Alive in Avalanche Terrain" I really need more beacon practice though and none of the beacon parks are open yet :-(

Another climber\backpacker friend of mine from Minnesota just showed up in park city last week for the winter and he has all his avy gear(but like me little clue on how to use it) also has a job at the canyons so he gets like 4 Brighton\snowbird lift tickets a month so hopefully we can use each others beacons to practice with. Right now I really want to focus on terrain management, safe travel and getting familiar with my beacon rather than snow science and all that. Am on call next weekend so I took Thursday off to hopefully ride the fresh snow were supposed to get Wednesday night.

We need alot more snow to ride most of the sidecountry around Brighton looks nasty our there a couple feet of faceted snow covering up rocks and stumps :-(


Hey you ever ride that route down to the golf course in Heber?
---
makingfreshtracks.com