Veteran Member
Join Date: Sep 2011
Location: Kyoto Japan
Posts: 1,229
Mentioned: 1 Post(s)
Tagged: 0 Thread(s)
Quoted: 0 Post(s)
Review 2013 Restricted cartels
---
I have been riding cartels for 3 years now. I have ridden a number of other brands, but keep coming back to the cartels.
I weigh 175 and ride lots of powder, steeps and technical terrain while throwing spins and tweaked out grabs of natural features. I do make a few daily passes through the park and hit tables and jumps on the way.
I ride the 2013's on a proto and 2011's on a cobra and summit when the powder is on.
My 2011 cartels and the 2013s are quite different so I thought I'd post up the main differences.
The 2011's are solid freeride bindings that allow for some freestyle.
The 2013's are significantly flexier and more freestyle oriented, while maintaining good freeride performance.
The reflex base plate allows you to get more pop from the same deck. Back to back I noticed a real difference in ollie height.
The autocant is a small difference, but definitely a difference if you weight up the inner side of your boots which I do.
The asym straps are just better, way more comfort with great response.
I have upgraded to these straps on my 2011's as well.
The highbacks are great for tweaking and flexing, but if you plan to do some technical riding I would dial in some forward lean for sure.
With the forward lean they are fine for technical riding, but all mountain freestyle is where they shine.
I will still be using my 2011's on days when I will be doing mostly freeride type stuff. They are a little stiffer and more responsive.
The 2013's are still responsive enough for my tastes while being super playful. For what I do I wouldn't go any softer.
All round a quality well put together binding
.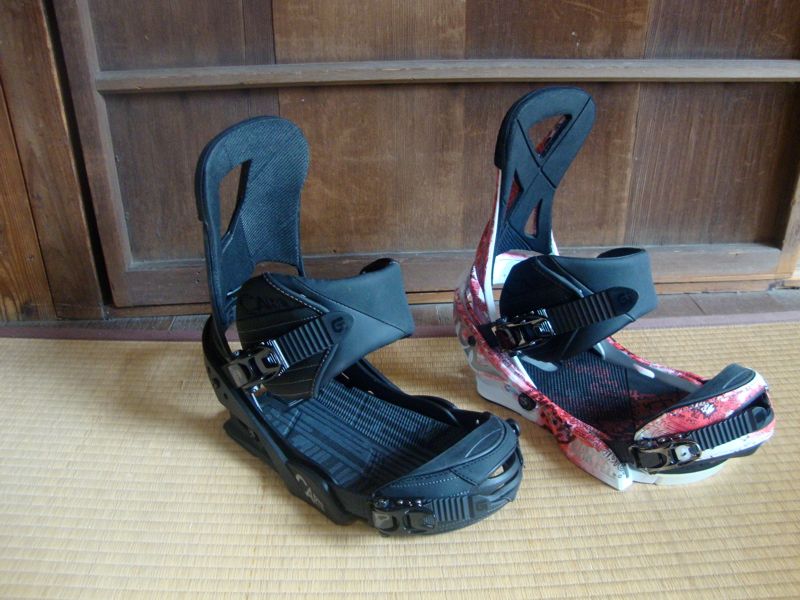 ---
Last edited by dreampow; 03-07-2013 at

09:55 PM

.
Veteran Member
Join Date: Aug 2011
Posts: 846
Mentioned: 0 Post(s)
Tagged: 0 Thread(s)
Quoted: 11 Post(s)
You need to try the salomon holograms out the new relay 2.0 system. It is awesome between that and the now ipo's best two bindings I have been on in a long time.

Great review from a almost pure pow place.
Veteran Member
Join Date: Sep 2011
Location: Kyoto Japan
Posts: 1,229
Mentioned: 1 Post(s)
Tagged: 0 Thread(s)
Quoted: 0 Post(s)
I would have got some now IPO if I could have found some here. Couldn't find any in my size. Maybe next time.
Veteran Member
Join Date: Aug 2011
Posts: 846
Mentioned: 0 Post(s)
Tagged: 0 Thread(s)
Quoted: 11 Post(s)
Haha yeah I have size ten boots so I got both med and large to what is better and for my k2 boots the med fit way better. So now I have a set of large just sitting around after only being used 5 times.