Guest
Posts: n/a
Mentioned: Post(s)
Tagged: Thread(s)
Quoted: Post(s)
What bindings to use for my Flow WX 163 (09)
---
I just bought this new Flow WX 163 ('09) snowboard: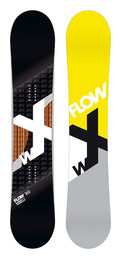 Anyone have any experiences with this board? Can't find any revieuws on this site.
However, I'm looking for a nice pair of bindings. I concider to try a set of flow bindings. I found the M9 bindings for year 2008 and 2009. Does anyone know if there are any relevant differences??
2008 model:
2009 model:
Or do you guys recommend any other bindings? My shoes are around size 10.5.
Thank you very much.
Guest
Posts: n/a
Mentioned: Post(s)
Tagged: Thread(s)
Quoted: Post(s)