Junior Member
Join Date: Mar 2012
Location: Breckenridge Colorado
Posts: 1
Mentioned: 0 Post(s)
Tagged: 0 Thread(s)
Quoted: 0 Post(s)
My Quiver O Rides over the years
---
Here are some classics Enjoy.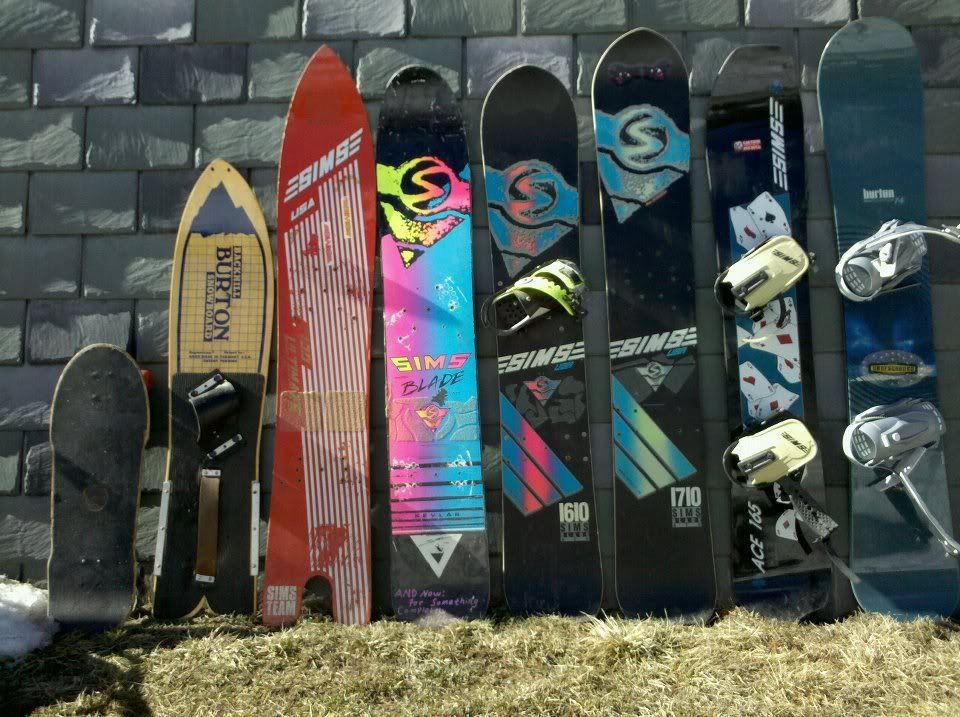 Gordon & Smith Proline Skateboard (1978?),
Burton Backhill circa 1982/83 (#480 of 1500) Shaped & Signed by Bob Novak,
Sims 1700 Ultimate Swallowtail (1983), Sims Switchblade (Circa 1988 originally white I painted it black),
Sims 1610 Blade & 1710 Blade (1989/90), Sims Ace 165 (1995 or 96) Burton Supermodel 174 (2001?) & still riding it. There were a few other boards cycled in & out like my old Rossignol 160cm Plate Biding Race Board, I still have the hard shell boots, & a Kidwell, Gnu & Mistral mixed in for short stints & many other demo & prototype boards for R&D for various companies but these are the boards which have had the majority of my riding time. Enjoy! ~Randall "PackerFever" Mott
Drunk with power...er beer.
Join Date: May 2010
Location: Vancouver, BC, Canada
Posts: 5,242
Mentioned: 8 Post(s)
Tagged: 0 Thread(s)
Quoted: 137 Post(s)
OK, I'm calling shenanigans on the one on the far left. That puppy has WHEELS. That'd be
terrible
on the snow!
---

Illegitimi non carborundum.