Junior Member
Join Date: Jan 2012
Posts: 26
Mentioned: 0 Post(s)
Tagged: 0 Thread(s)
Quoted: 0 Post(s)
Cannot find comfortable boots
---
I'm having a hard time finding comfortable boots. Last year I had some DC Scouts, they were OK but had bad pressure points on my ankles (and I had a half size too big). Just picked up some Thirty Two Focus BOA. They are a little stiff for me, which I can deal with, but after an hour they hurt my feet to the point I can barely ride.
They have pressure points on my ankle bones and on the top of my foot where the inner liner lace is. They have a pattern on the liner and it doesn't match my feet at all. See pic below, the yellow circle is about where my ankle bone is. I have pretty bony ankles/feet, am I just a weird fit?
Should I bother trying to heat mold these, add foam or whatever, or should I pick up new boots? I'm a 10.5, looking for something with BOA and mid flex. Not afraid of spending money for something that works.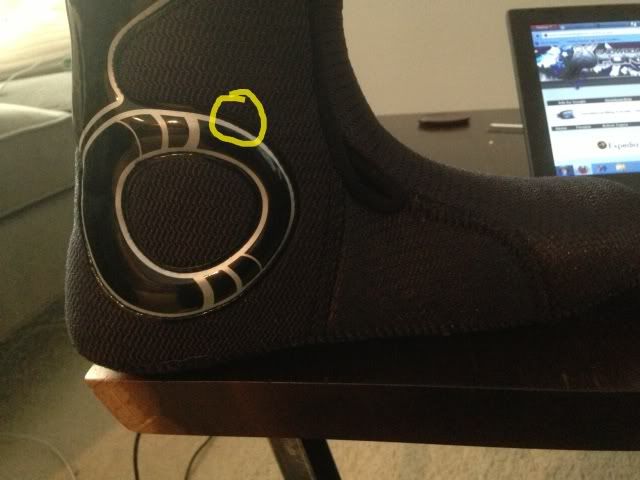 ---
Last edited by Cvc9216; 12-31-2012 at

01:36 PM

.
Senior Member
Join Date: Nov 2012
Location: MI
Posts: 408
Mentioned: 0 Post(s)
Tagged: 0 Thread(s)
Quoted: 0 Post(s)
you can start by sending back the ThirtyTwos for sure if they're painful, and especially is the ankle circle isn't adjustable. Just grab a Clorox surface wipe or something similar from a supermarket and wipe the boots down everywhere until they're in the same condition as they were when you go them. Don't tell the website you bought them that you've actually worn them on the hill- just say you tried them on and they fit awkwardly. If they ask if you've used them say no and do a damn fine job cleaning them!
It looks like your only problem is the position of the heel supports.
The Focus Boas have the Level 6 liner, which does have those circular supports on it. (The Level 3 and Level 4 liners also have them.)
Check out the boots with the Level 2 liners, which don't have those heel supports to get in you way. Go to their boots page (
http://thirtytwo.com/boots/mens/
) and on each boot you can see an image of its liner at the bottom of the page.
The boots with the Level 2 Liners are the STW Boa, JP Walker Light, 86 FT, Maven, Prion, and Prion FT.
These boots are also softer than the Focus Boas, which solves the problem of the stiffness.
If you want to try a different brand, Vans has a similar heel support on their liners as the one you have now, but it's higher up and is completely open at the front, which looks like it would fit you pretty good if that's where your heel bone sticks out.
Here's a Vans liner:
I haven't tried Vans boots, but they look decent and are made to fit with most bindings. Do you're bindings have a cap strap? If you do try Vans boots, keep in mind that on some models the toe section is really soft and would squash down with an over-the-toe strap, unless they've fixed that this season.
Most brands have different liners with the support bars in different positions.
Good luck with finding better boots.
---
Last edited by Gdog42; 01-07-2013 at

05:00 PM

.
Senior Member
Join Date: Nov 2012
Location: MI
Posts: 408
Mentioned: 0 Post(s)
Tagged: 0 Thread(s)
Quoted: 0 Post(s)
Forgot to say:
When you return the Focus Boas, it would make trying on pairs from online a lot easier if you order from zappos.com
They specialize in footwear and they have free shipping and free returns so people can try stuff on. They sell ThirtyTwo boots and other boot brands, so you can go balls-out and try on all the pairs in all the sizes you like and just send back all the ones you don't like for a full refund.
They don't do up to size 14 in some pairs though, if that's your size.
Junior Member
Join Date: Jan 2012
Posts: 26
Mentioned: 0 Post(s)
Tagged: 0 Thread(s)
Quoted: 0 Post(s)
awesome thanks! I'm going to return these ThirtyTwos, I don't think they're gonna work out, and I'd rather get my money back than hope I can get them to fit. I may give the STW a shot but I'm thinking a different brand, the Focus is the most uncomfortable boot I've ever worn.

I want to buy locally but local shops don't have a huge selection, especially higher end stuff. They are supposed to get some more in soon, or if not I'll give zappos a shot
Senior Member
Join Date: Nov 2012
Location: MI
Posts: 408
Mentioned: 0 Post(s)
Tagged: 0 Thread(s)
Quoted: 0 Post(s)
I just got my ThirtyTwo Prions today. I'll now confirm for you that the Level 2 liner does not have those nasty looking plastic things on them. The whole thing is foam. It does have stitching in the shape of a circle in the same spot on the outside though, and it's just a little thicker on both sides of the bottom to cushion the Achilles tendon of the foot. My ankle bone sticks out close to where yours does due to being 6' 4", and the Level 2 feels nice.

Those plastic supports on the higher-level liners are designed to really squeeze your heel to minimize heel lift. They look like they'd be pretty uncomfortable for me too.
I would give the STW Boa a try, or any ThirtyTwo boot with the Level 2 liners before considering another brand. The quality of these boots, now that I have them in person, is simply the best I've ever seen from snowboard boots.
Or you could try those and try another brand at the same time. I'll update my thread later if I have time.
-LIFETIME MEMBER-
Join Date: Dec 2012
Location: Hamilton, ON
Posts: 61
Mentioned: 0 Post(s)
Tagged: 0 Thread(s)
Quoted: 0 Post(s)
i got some cheap 70$ fireflys from sportchek

awesome
---
2008 Burton Custom Superfly ii
2008 Burton Cartel Bindings
Beginner
Senior Member
Join Date: Dec 2012
Posts: 338
Mentioned: 0 Post(s)
Tagged: 0 Thread(s)
Quoted: 3 Post(s)
I had a issue with a pressure point on front of my ankle. I heat molded my liner and it eliminated it
Veteran Member
Join Date: Dec 2011
Location: the 410
Posts: 512
Mentioned: 2 Post(s)
Tagged: 0 Thread(s)
Quoted: 79 Post(s)
another way to make boots feel alot better is get a custom interlinear they will make a world of difference. and i second heat fitting them.
---
when your a man sometimes you wear stretchy pants in your room just for fun
Junior Member
Join Date: Feb 2011
Location: Royersford, PA
Posts: 10
Mentioned: 0 Post(s)
Tagged: 0 Thread(s)
Quoted: 0 Post(s)
Hi well honestly the most comforable boot ive ever had, are my Nike Zoom Force 1's the are light and feel like nothing on my feet with good dampening.
---
Current Boards:
2011 Bataleon Evil Twin Artist Edition
2012 Epic Grim Rabbit
2009 K2 Darkstar

Current Bindings:
2012 Ride Capo
2013 Ride Maestro
2009 Ride Ex

Current Boots:
2012 Nike Zoom Force 1
-LIFETIME MEMBER-
Join Date: Nov 2008
Location: NH
Posts: 3,552
Mentioned: 0 Post(s)
Tagged: 0 Thread(s)
Quoted: 0 Post(s)