Guest
Posts: n/a
Mentioned: Post(s)
Tagged: Thread(s)
Quoted: Post(s)
flow womens board, flow bindings, burton boots, all new in box never used!!!
---
ok so this was a big waste of my money bought my gf a brand new snowboard, with bindings, and boots. she never and i mean never used it. still has tags on it, boots in original box, as well as bindings. paid $700 for it all last year. my loss your gain, would make a great christmas present or gift for any girl. i want to try and get $450.00 for it, thats 300 less then to buy it new with no tax! here is what it is:
FLOW 2007 MYRIAD SNOWBOARD: ALL MOUNTAIN/FREESTYLE. PERFORMANCE LEVEL 8. 145CM=90-135LBS. ITS BLACK/WHITE AND PINK. RETAIL $378.95
FLOW 2007 AMP 5LD STEP IN BINDINGS. SIZE MEDIUM=4.5-7.5 RETAIL FOR $178.95
BURTON 2007 CASA BOOTS. WHITE AND LIGHT GRAY/PINK. SIZE 7.5. RETAIL FOR $109.95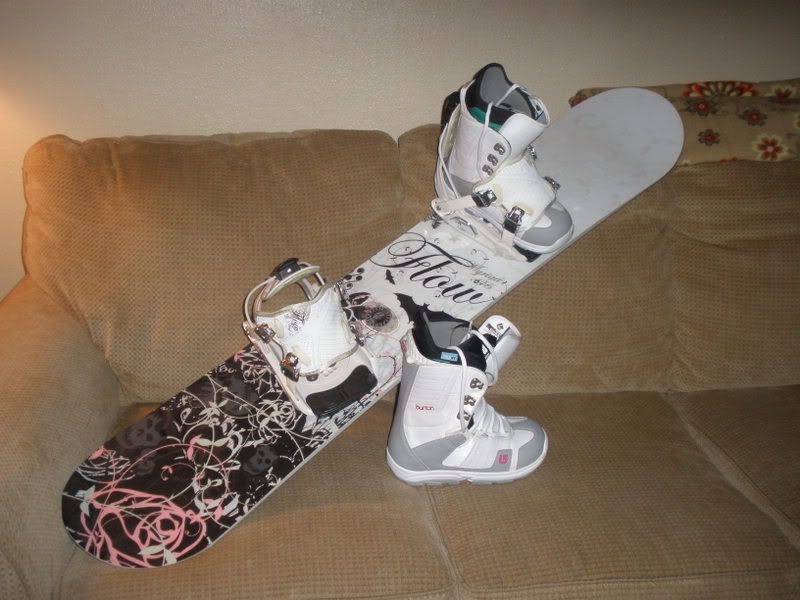 Guest
Posts: n/a
Mentioned: Post(s)
Tagged: Thread(s)
Quoted: Post(s)
hi, i am interested and how much if i only want the board ?