Junior Member
Join Date: Feb 2009
Posts: 8
Mentioned: 0 Post(s)
Tagged: 0 Thread(s)
Quoted: 0 Post(s)
December 12th 2010 Snowboard and Pinball Film Premiere Party
---
If you are reading this then you have access to the internet.
If you have access to the internet, then you can come to my birthday/new film release party on Sunday December 12th! It's as easy as watching a video on Youtube.
December 12th is "PinPin Day". On the 12th I will do the following for you:
1)Post the new PinPin Zero Dollars SNOWBOARD film and the new PINBALL film online so that you can watch them for zero dollars at this link,
http://pinpinfilms.com/
2) Host a live streaming video of the film release party that you can watch (no webcam required) just go to this link and watch just like a youtube video,
pinpinfilms on Justin.tv
3) Host a traditional NO COVER film premiere party at At Jonny G's*Bar, Nightclub, and Pizzeria
Jonny G's
409 Main Street #201 *Upstairs in the Frisco Mall
Frisco, CO 80424
See you on Sunday the 12th!
ps. I am still going for 1 million views before December 12th and as of November 29th I am at just over 400,000. I have posted lots of entertaining videos on my YouTube page so please click around to play the videos on my youtube channel YouTube channel at this link.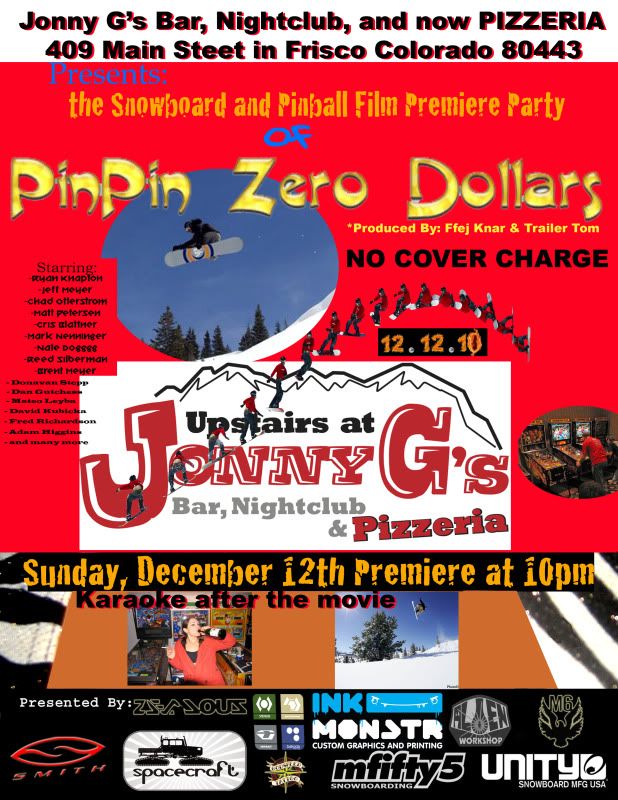 -Tom-