Guest
Posts: n/a
Mentioned: Post(s)
Tagged: Thread(s)
Quoted: Post(s)
ZJ Boarding House 20th Anniversary Festival
---
ZJ Boarding House 20th Anniversary Festival
ZJ Boarding House Celebrates 20 YEARS with a Huge Festival In Santa Monica | ZexSports.com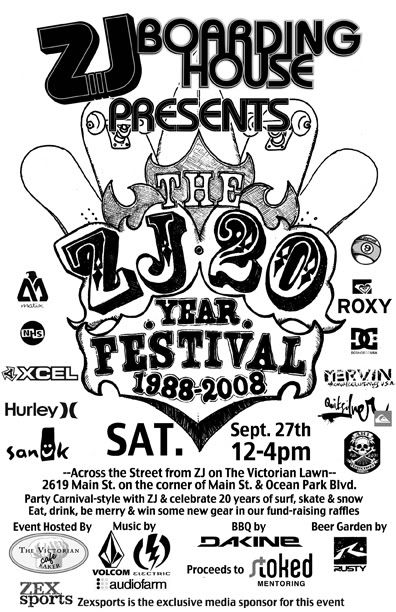 Hosts: ZJ Boarding House
Event Sponsors: NHS, Matix, Xcel, Hurley, Sanuk,
DC Shoes, Mervin, Quiksilver, Sector 9, Volcom,
Electric, Dakine and Rusty.)
ZexSports is the exclusive media sponsor for this event.
Event Host: The Victorian
Music: Volcom, Electric Visual and Audiofarm
BBQ Dakine - All proceeds go to Stoked Mentoring
Beer Garden: Rusty
Date: Saturday, September 27, 2008
Time: 12:00pm - 4:00pm
Location: Across the street from ZJ on The Victorian Lawn
Address: 2640 Main St.
City: Santa Monica, CA
Contact Info
Phone: 310-392-5646
Email:
info@zjboardinghouse.com
Description
The ZJ 20-Year Festival will be a carnival-style fundraiser with 100% of the proceeds going to Stoked Mentoring, a non-profit mentoring organization designed to teach life skills to at-risk teenagers through snowboarding, skateboarding and surfing.
There will be plenty of carnival games and prizes, live music, a beer garden, raffles with prizes including a surfboard, skateboard and other loads of goodies, and athlete appearances!
The ZJ 20-Year Festival is open to the public!
- Clayton Woodley
zexsports.com
zex sports