Senior Member
Join Date: Nov 2012
Location: MI
Posts: 408
Mentioned: 0 Post(s)
Tagged: 0 Thread(s)
Quoted: 0 Post(s)
What the heck are these things?
---
I'm referring to the leather or rubber squares with the slots that are stitched onto the back of backpacks. I've been seeing them everywhere and now there starting to get annoying because they don't seem to serve any purpose. It seems to just be another brand-copy-brand thing (where one brand starts doing something and then it becomes a standard product feature among most brands to the point where nobody knows which one the feature came from.)
-Kind of like the thicker laces on snowboard boots (although this was years ago), which are now standard for all brands. I remember back when they used to be rope laces. But at least the thicker laces are actually a legitimate improvement, as they're easier to tie when I'm out in the cold and wet snow.) Unlike the squares, which don't do anything.
So does anyone know just what the heck these slotted squares are for? They're driving me nuts.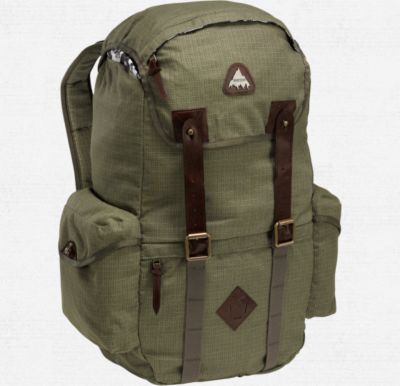 On this gym bag they've just put the square thing on for the heck of it without the slots...why?
---
Last edited by Gdog42; 02-23-2013 at

12:03 AM

.
Senior Member
Join Date: Jan 2012
Location: Brooklyn, NY
Posts: 130
Mentioned: 0 Post(s)
Tagged: 0 Thread(s)
Quoted: 0 Post(s)
They are called lash tabs. You can clip lights, knives, radios, etc to them. You can also add accessory pockets or sleeping rolls.
-LIFETIME MEMBER-
Join Date: Dec 2009
Location: Rockford, MI
Posts: 3,950
Mentioned: 13 Post(s)
Tagged: 1 Thread(s)
Quoted: 113 Post(s)
Those have been on backpacks for years, or for decades. Definitely not something new. I think they provide a place where you can easily attach something else like a strap or a canteen etc. Practically, you wouldn't do this snowboarding, so it is just an aesthetic addition, but if you look at like military style backpacks, there's webbing and all sorts of shit like this.
Senior Member
Join Date: Jan 2013
Location: The Emerald City
Posts: 426
Mentioned: 8 Post(s)
Tagged: 0 Thread(s)
Quoted: 45 Post(s)
I am so glad you posted this. I've been really curious about the funtion of thise things for a while and it's driving me nuts as well. Google has been no help so far and reading item descriptions on those packs that have it say nothing about it.
Maybe someone can solve this mystery for us... but I have a feeling they're a useless "fashion" addition.
Edit: beaten to it. Typing on this thing is slow. Thanks, guys
Senior Member
Join Date: Nov 2012
Location: MI
Posts: 408
Mentioned: 0 Post(s)
Tagged: 0 Thread(s)
Quoted: 0 Post(s)
Thanks for the responses, that makes more sense.
I've only been noticing them recently though. At my campus a lot people have them on their packs- they're usually made of weaker-looking materials and stitching that wouldn't last long with any weight on them. They've probably become more of a fashion component than a practical one which is why I'm seeing them on every freaking pack. I've asked friends, but no one else knew what they were and were also confused.
Waste of material if you ask me.
Banned!
Join Date: Aug 2011
Location: L-Town
Posts: 7,367
Mentioned: 12 Post(s)
Tagged: 1 Thread(s)
Quoted: 469 Post(s)
you can strap your bong or volcano vaporizer to it.
---
Support Local Business
"Shop Smart. Shop S-Mart!" - Ash
Senior Member
Join Date: Aug 2012
Posts: 220
Mentioned: 0 Post(s)
Tagged: 0 Thread(s)
Quoted: 0 Post(s)
Attach anything with a clip to it. Sleeping Bag/ Keys/ anything.. actually serve a pretty good purpose, I clip my boots to them with a caribeener---spelt that wrong i know