They guys at Never Summer have been kind enough to loan out the 161X Prospector to me. I have had it for about three weeks, but due to life things I only have a couple of days on it. So I am just have some general impressions.
The conditions were squarely in the spring category. Very warm and soft snow. The Prospector has a flat spot under and in front the touring bindings to help with skin contact on the climb up. One of the short comings of the rocker camber splits has been that the rocker is right under the touring bracket. So you lose a lot of contact. In perfect conditions, deep pow, warm spring slush, not a problem, when it gets firmer it can be challenging. So I was pretty excited to try this improvement. Unfortunately, I had nothing but perfect skinning conditions. One day spent at Bert and another riding Grizzly Peak on Loveland Pass. Both days, when I put skins to snow, there was about a 2-3" slush layer that just grabbed the skis. I did get on one steep side hill where I usually have a challenge, and it was no problem. Again though, perfect skinning conditions.
The weight of the board was 7.9lbs with just tips clips and chinese hooks. Not the lightest, but not a heavy split either. Right in the middle. It has a set back stance, with taper. I want to say 14 millimeter, but it might be more than that. Perhaps Vman will drop the fine details on this thread. Obviously this is a free ride split. For those who like to spin, I'd look elsewhere.
Performance wise, I felt right at home on it. I thought the flat spot for skinning would change the lively feeling most boards have with rocker between the bindings. I did not notice much of a difference. If anything it made straightlining a little easier. The Never Summer damp stable ride is alive and well on this split.
As far as edge hold and turns, it railed them just like I would expect a board of this style to do. In other words it was great. Grizzly was a good test as the chute is in the 45 degree range for about 1k vertical. Snaps out of turns and locks into the next one with minimal effort.
Unfortunately, I don't think there is going to be a decent powder day to test this in the conditions that most of us would be aiming for. As a spring chuting split, this is definitely a fine choice for that style of riding. Then again I do see there is snow in the forecast up high, so if it looks decent I'll make it a point to get it out there.
A few photos.
Grizzly Peak 13,427'. We took the Chute just to the lookers right of the Summit.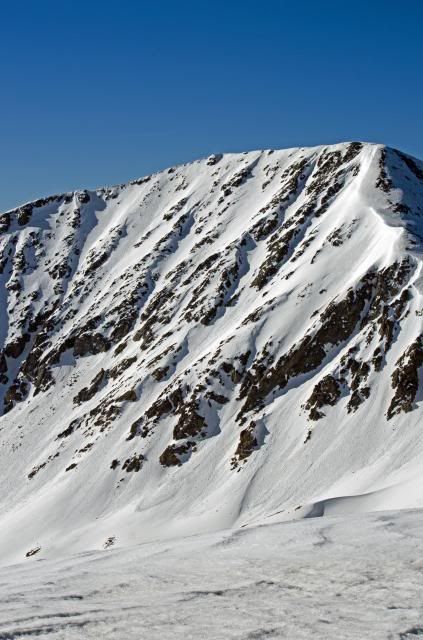 The Prospector on the Summit of Grizzly. The Peak in the background is Torrey's 14,275'.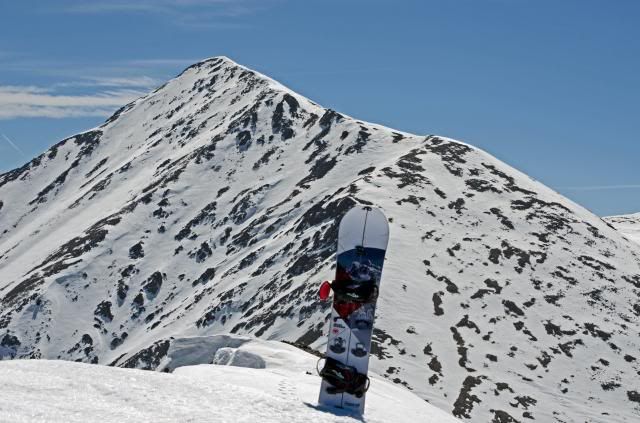 A closer look at the board.
and a pick of Jordan skiing Grizzly chute just to give you an idea of the angle. Otherwise, probably not a great pic for a snowboard review...
So far I am enjoying this board. Hope to get a couple more spring days on it.