Discussion Starter
•
#1
•
Finally have enough days on varied terrain/conditions to put up a thorough review on the 2015 Burton Cartels. These are my own thoughts/opinions and I understand other people have differing opinions/experiences and I respect that completely.
The images below are not of my own bindings, but mine are the exact make/model/color shown in the images. I am 5'9", 185lbs and would consider myself an expert rider. The Cartels are medium, and are currently mounted on a 2014 YES Pick Your Line 159. My boots are ThirtyTwo TM Two's size 9. I've got 5 full days of resort riding on these (everything from green access road type runs to double black diamond runs) and one backcountry snowmobile access day which had literally waist-deep dry powder in untouched conditions (no, I'm not telling you where it was
.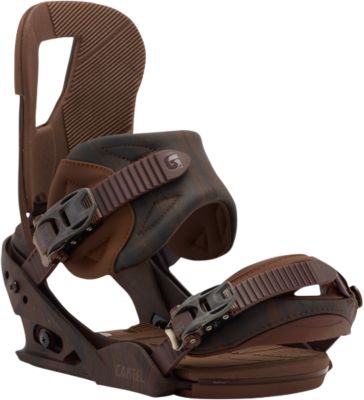 From Burton's Website:
Baseplate: Single-Component Baseplate Construction, 45% Short-Glass/Nylon Composite, Re:Flex™ Baseplate Construction, Re:Flex™ Bindings, Compatible with all Major Mounting Systems

Hi-back: Single-Component Hi-Back Construction, Living Hinge™ Hi-Back, Zero Forward Lean HI-Back, Canted Hi-Back Design, DialFLAD™

Straps: Lightweight Reactstrap™, NEW Flex Slider, Gettagrip Capstrap™

Cushioning: Re:Flex AutoCANT FullBED Cushioning System, NEW Under-Baseplate EVA Dampening, B3 Gel, Features Re-Ground Materials to Reduce Waste
7/10 on Burton 'Feel' Rating where 1 is the softest and 10 the stiffest.
My thoughts:
Baseplate:
Has the living-hinge baseplate disk supposedly to offer more feel and flexibility but being as the PYL is so damn stiff on its own (one of the reasons I bought it) this feature was difficult for me to test/experience. Obviously these bindings come with two sets of discs and are 100% compatible with all commercially available common board mounting systems.
Hi-Back:
This is advertised as a one-piece high-back, but if you want to get technical, the forward lean adjustment screw should count as two pieces. Nevertheless, the high-back gives excellent support and I found it to be perfectly comfortable (and a great fit with my boots). The high-backs are canted, which I didn't really feel physically, but is a good idea in my view since pretty much any stance set-up will have your legs at some angle other than perpendicular to the base-plate of the binding.
Straps:
What can you say about Burton straps? Pretty much the standard in the industry in my experience. Others may have as good on some models, but no other company does this any better than Burton IMO. There is excellent padding on the heel strap and there are absolutely zero pressure-points. The heel strap has a feature that Burton are really promoting this year called 'Flex-Slider'. This feature designs a crease into the strap so that when fully opened, it stays that way instead of springing back towards the closed position. This is supposed to make entry into the binding that much easier because you aren't constantly moving the heel strap out of the way to strap-in. I must say, this low-level technology does indeed work; but I didn't like it. When I get off a lift line I put my foot where other people put their stomp pads (I just don't use one) and I found that the flex-slider makes it so the heel strap is always lying across the exact spot I would want to put my back foot when I get off a chair-lift. To get around this, I found myself closing the binding strap anyway, defeating the purpose of this technology. Perhaps others would like this feature, but I don't. The Gettagrip Capstrap toe strap is simply put, the best one in the business in my view. As for buckles, they are smooth operating both closing and opening and I experienced nothing bad to say about them in my time thus far. Well built, and if you ask around, very few if anyone ever has issues with Burton binding hardware like buckles.
Cushioning:
The main features of this binding in this area are Autocant, B3 Gel inserts, and built-in EVA dampening. Since the PYL is a longer board than my last one, I found myself setting up my stance a full inch and a half wider. Because of this, I'd like to say the Autocant worked; but the truth is I don't know if it did. Regardless, my stance angle combined with these bindings felt absolutely great. There isn't a lot of B3 gel in the baseplate, and I can't distinguish any EVA dampening visually, but you can simply feel that there is a significant amount of cushion/dampening in these bindings. They are just that comfortable. I rode a few days from first chair until the lifty told us last chair and I could easily have ridden longer - these bindings are that comfortable.
Overall:
I would highly recommend these bindings for anyone looking for an all-around, highly adjustable, do-it-all oriented binding (if you can't adjust these to meet your boot/board requirements, well it won't be the fault of the bindings I can say). That said, I believe they could be used for a wide-variety of terrain/riding styles and that is exactly what I intend to use them for - everything and anything despite the fact I have both Union and Flux bindings at my disposal.
If I can think of anything else I'll edit this review. If you have questions that I didn't answer, I'll do my best to respond to them. If you have similar and/or different experiences, it'd be interesting to hear them. Thanks for reading, I hope you found this useful.