Discussion Starter
•
#1
•
I've been brainstorming this casually for a few years but decided to seriously look into this recently cause I've noticed the past few seasons I've mainly been riding at night cause, well, it's cheaper. Every year lift ticket prices go up around here but after 2pm or 5pm, some of the local hills have a cheaper rate.
There's a lot of benefits to night riding for me, cheaper, easier to find parking, much less lineups - except - only the runs that are lit are open. I don't need to go down the closed runs cause there's usually a closed chairlift at the bottom anyway. But just for those "connecting" trails that aren't lit (that lead back to a lit trail), going through some trees, that sorta thing. I also like be able to make out what I'm riding on that much clearer; avoid black ice, rocks and shit...
Looking online, I was a bit surprise that no one makes a helmet light by now? So I decided to make my own. I can fix almost anything so if I could find the right light I could make it work. I started looking into those lights in LED people use for construction/work that's held onto your head with those small looking goggle straps; I just didn't need the strap. Holy shit they can get expensive around here but found the best bang-for-the-buck at Walmart of all places.
They carry the Energizer version of them (at least in my area) so it should be made relatively well.
Energizer LED headlight
Ironically I found a 350 lumen one on the shelf which according to Energizer's site they don't make anymore? Because it's for work, it's waterproof, shockproof and suppose to last up to 6 hours on high, which is perfect cause the local hills close before then anyway. I opened the package and turns out it's hinged and can be adjusted down, so bonus!
Mounted it on the front my helmet with industrial, waterproof, indoor/outdoor double-sided tape I had.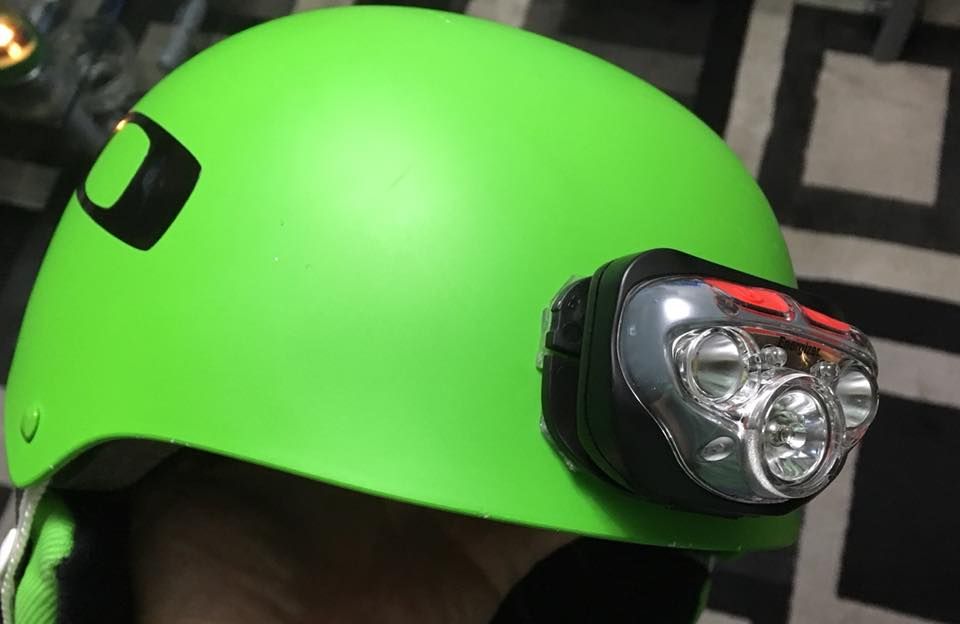 Tested it at home and lit up my whole backyard! I think it'll do the trick on the hill. I'll try and post an update with hopefully some pics. I'm itchin to go just to try it out but won't have time til after this coming weekend when I'm back in town...
*DISCLAIMER: I'm not advocating anyone go out of bounds, ESPECIALLY at night. Use your goddam mountain sense for fuck's sake...