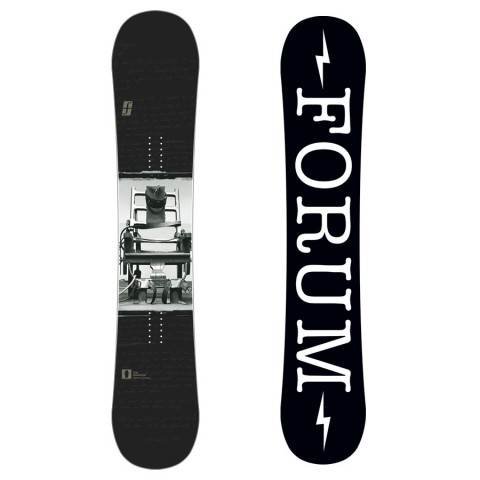 158cm board, I'm 6'1 210lb Size 10 boots. Ridden 23 inch wide, 15, -15, 2014 Restricted Cartels. Approx 6-8 days worth on this board. I also dig the macabre graphics, made even better by there being a letter from a person executed by the chair in the image scribbled faintly over the entire topsheet of the board. I haven't been able to make out the entire letter, but some parts still give me the heebie-jeebies!
So the Destroyer DD is billed as an All-Mountain Freestyle board, and I'd say it does everything well, but nothing great, kind of what you'd except from boards in that category. It's mid flex and R/C/R/C/R profile keeps it playful while being able to ride in pretty much any conditions you encounter.
Groomers - On fresh groomers, it can lay down a carve no problem, very quick edge to edge with a deep sidecut make short and medium carves a breeze. Speed isn't an issue either, which kind of surprised me given it's flex and the amount of tip rocker it has. The base picks up speed quickly. There's a little chatter visually, but I could never really feel it, the cambered section and my bindings must absorb it well. Saying that, once it gets choppy it can get pushed around a bit, it's no chunder buster. Also on hard pack/ice it's not the greatest, but no one's expecting a board of this flex and profile to have endless edge hold. Other reviews I've read have said the edge hold is lacking, and I'd say it's just middle of the road. I always keep my edges sharp, and don't detune my contact points. It grips in all conditions, I'm just not as comfortable leaning fully into a carve when it's harder out, but on soft to firm cord I can put a forearm down with no issues.
Powder - Haven't ridden it much in powder, probably only 8-10 inches deep at most, but it floated great for a twin with a heavier rider, very nimble and playful in the soft stuff. I'd love to get a chance to try this on some back country kickers, I think it would excel there. If it's your only board, it's capable enough in powder, and if you set the bindings back I'm sure it'd handle anything except really low angle pow no worries.
Park and play - This is my playful board, and it's perfect for my riding style here. I'm no jibber, I prefer jumps and goofing around with butters or popping off whatever I can find. It's got plenty of snap from an ollie, you can load up the camber under foot easily and get enough return to keep anyone happy. On kickers it's the right mix of stable and forgiving for me, stiff enough to not wash out on tail heavy landings, soft enough I can butter, press, and practice spins with ease. I've never touched a rail with it, but on boxes it locks into a boardslide just fine, and 50/50s with a nose or tail press feel good as well. I'm a bigger guy and quite strong, and my park technique isn't the greatest. It lets me press into it with ease, while the mid flex and camber underfoot stops me overpressing. I've been on noodles and I just overpower them, whereas this feels perfect for me.
Overall I'd say this could be a great one quiver board for the guy that legitimately has no preferences, and will ride anywhere anytime depending on their mood. Jumps over jibbing in the park, and soft groomers and mellow pow over hardpack or the deep stuff. Basically what I think most Average Joe riders enjoy and seek out. Obviously no longer being made, so if you can find one new it's likely at a steep discount, and worth every penny!