Dope being caffeine for keeping up with school course work, of course.
Never Summer SL-R 158
$200 + shipping (FEELER)
On the left.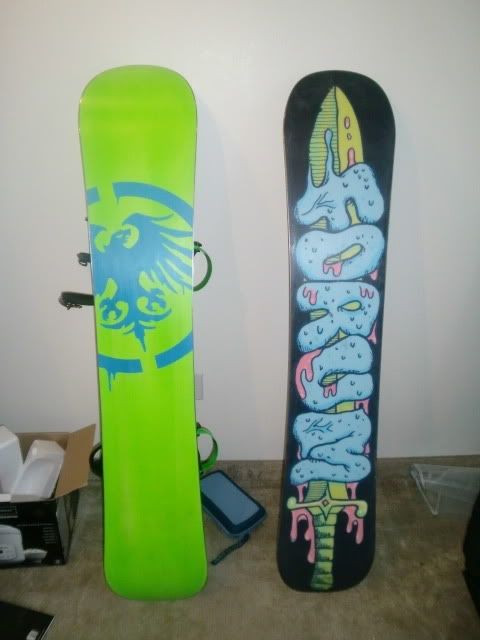 This is more a feeler. I may pick up a different Never Summer (probably a Premier or an Evo) later this year. If I opt against that, I'm keeping this board.
This is a prototype for the SL-R I picked up at the end of the 07-08 season. I've personally put around 25-30 days on it, and it was definitely previously ridden when I got a hold of it, so I would guess it's had around 35-40. Still rides great, has its pop and stiffness, and actually looks better than a lot of my boards do after 5 days.
Smith Phenoms, Blue Lagoon and White Chopper, 1 NEW Ignitor Mirror, 1 USED Ignitor Mirror, and 1 Sensor Mirror
$40 + shipping for either frame + used lens
$50 + shipping for either frame + new lens
$55 + shipping for either frame + 2 used lenses
$65 + shipping for either frame + new + used lens
$75 + shipping for both frames + two used lens
$85 + shipping for both frames + new and used lens
$100 + shipping for the whole shebang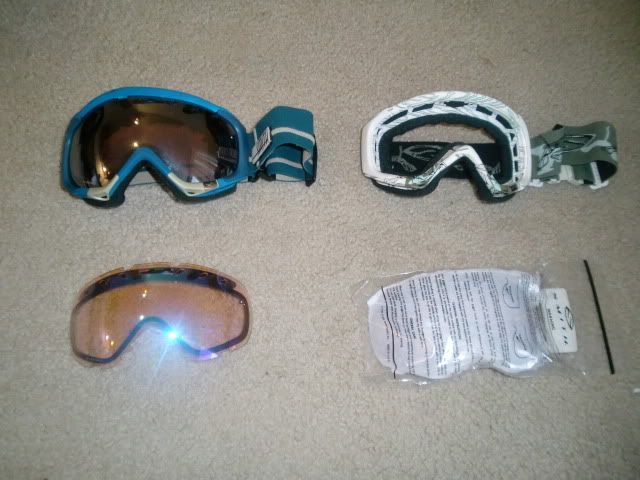 I love Phenoms for their field of vision, lenses, ventilation, and looks, but they just don't fit my face ideally. They fit super comfortably, but my nose isn't QUITE wide enough to fill in the gap. 95% of days I'm fine, but if the wind is in whipping around and I'm riding fast, I sometimes get a jet stream from underneath that causes me to tear up.
I have two frames and 3 lens: 1 used Ignitor Mirror, 1 brand new Ignitor Mirror, with the various prices above. Ignitor Mirror is my favorite lens I've ridden with, it's a mirror 35% VLT lens that increases contrast, so it's great for both flat light and bluebird. The Sensor Mirror is a nice lens. I tend to use it as a night lens, leave it in there for partially cloudy days, and even in bluebird. I see a lot of people using it on stormy / overcast days, but I prefer the Ignitors for that.
IS Design Forma, Yellow, Rose Mirror (?)
$40 + shipping (feeler)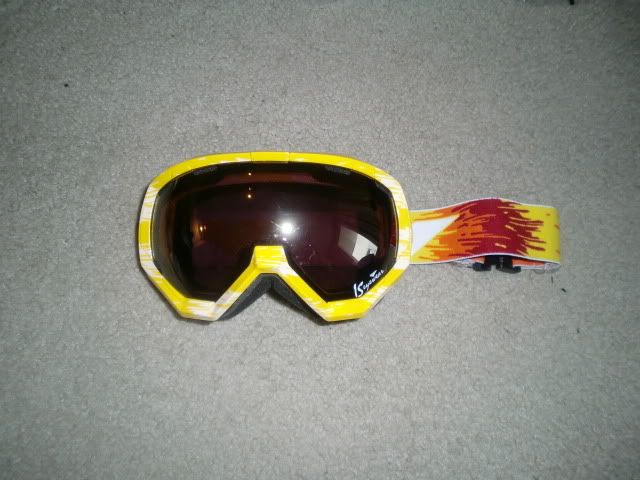 These fit alright, but are a little narrower than ideal. I haven't used the lens too much, so I can't really comment. It worked great in partially cloudy conditions and bluebird conditions in Utah, worked ok in the shadows, but I've never used it in storm or flat light conditions.