Well, thanks to killclimbz, I am going to make my first splitboard. I had a few old boards around that I've beat on so I thought I would attempt this project.
Looking at the K2 panoramic splitboard specs, they looked pretty close to my K2 Brigade I had. The profile looked basically the same so this board became the donor. I really liked the way it rode anyway, so it seemed like the best choice. I've ordered the Voile DIY kit, but don't have it yet, so this project will take a few weeks.
Here is the board laid out with the centerline and tape showing where I want the bindings. I taped the topsheet as well to try to prevent any splintering. I doubt it would anyway, but good practice regardless.
Here is the base with the centerline.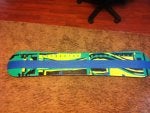 Here are the edges getting cut with a metal cutting bandsaw.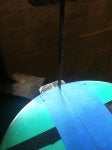 cont.