New Never Summer Cobra.. Update/review added Rossi angus too..
I just picked NS Cobra and Im stoked. I got it for 50% off today. Paid 275 for it. put some ride RX series bidings that ive been using for a few years.
Edited: It now wears the Flux TT30 bindings.. the bindings for me definitely took some getting used to. WAY more flex and overall loose fit than I was used to on the ride bindings.. I love the way they feel now but the first day on them I thought they were a mistake.
I was able to try the board on a 8" pow day a few weeks ago.. I can honestly say that I had one of the best days of my life, that day on the Cobra.. It took me a few runs to get used to the new board and radically different profile that I was used to(rossi one) but after that, I couldnt believe how much fun I was having.. I was truly "shredding". I was hitting every natural feature and kicking its pants. I did get a pretty tired and sore back leg but probably because I am used to a longer board(163)?? The short tail is REALLY noticeable also.. maybe thats why I ride the back a little more now?? This board just kicks serious a$$ In the trees.
I brought the board up last week on a icy morning and I was having a hard time reining the board in on the fast groomers. I was able to get some good speed but I was almost caught a few times on an edge.. saved it somehow.. I think that is why they call it the Cobra.. Dont rein it in and it WILL bite ya. I jumped on my Rossi one for a while and hauled ass with ease.. I jumped back on the Cobra again around noon when it was about 48 degrees and the snow got real soft. I put a all temp hot wax on the night before and slid with ease, I was having a blast again.
I have been riding a 2010 Rossignol One magtek, love that board but Im really dissapointed at the top sheet chipping and full on delaming on a fairly big spot on the tail. It doesnt seem very durable at all. I would estimate only roughly 45 days on it total..
Here is the Cobra with the ride bindings.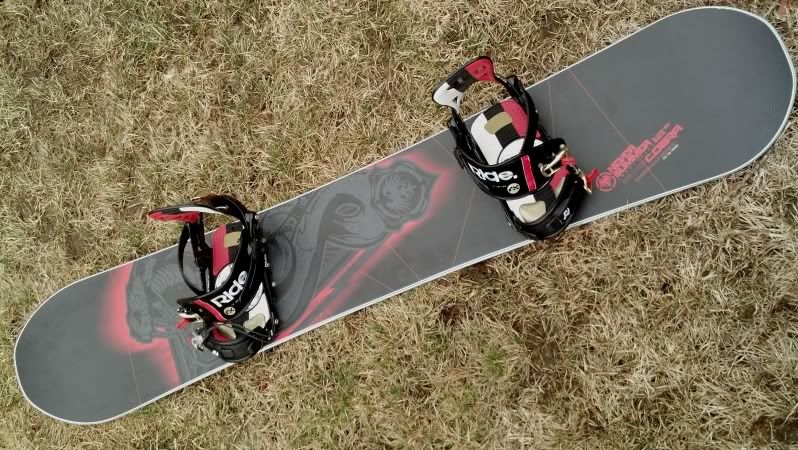 with the Flux TT30 bindings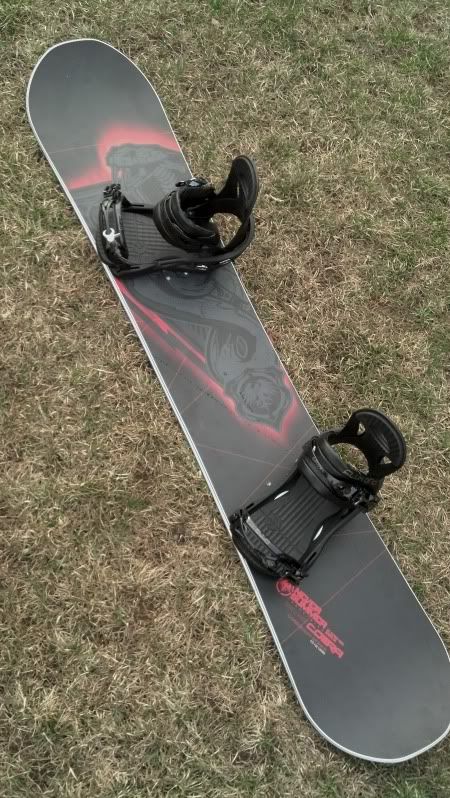 So heres my other new addition.. Rossi Angus Mid wide 162 with Rome 390 boss bindings.. I scored both of them on ebay from a guy for 300. both are brand new. impulse buy i guess.. Cant wait to try this board though.
Question: should I switch the Rome bindings to the Cobra?