About me
I mostly ride in Nagano although I make trips to various spots around Japan throughout the winter.
I am 6ft tall and weigh 175lbs (78kilos) in my birthday suit. I wear size 11 boots. I consider myself an advanced rider and this year I started doing some professional guide work, mostly just learning from and helping the experienced guide who I am working with.
I spend most of my time free riding in powder and trees and this is where I am most comfortable. I ride with a strong freestyle element and look to get little spins and grabs off natural hits. Since last year I have started getting into the park a little more.
This is where I ride the most, Nozawa Onsen in Nagano.

2014 Never Summer Cobra
The Cobra used in this review was given to me by Never Summer for product testing and improvement as well as for the review itself.
I rode the 158 with 2011 Burton Cartels in a wide range of conditions, but mostly powder days.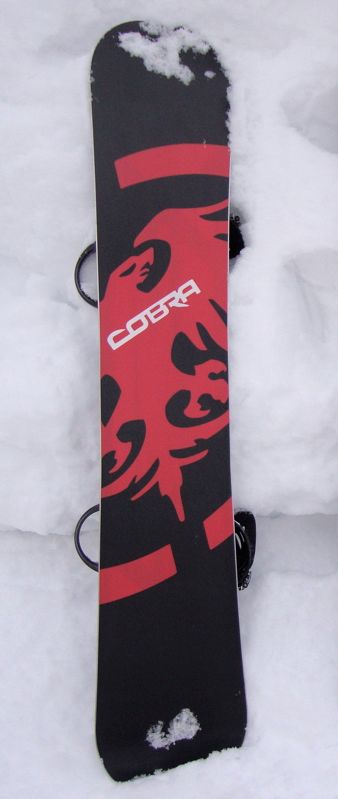 My first run on this board took me down a 40 degree spine with dense trees and no tracks (one of my secret spots).
Oh Yes! This is what this board was made to do. The float is excellent for an all mountain freestyle board. I really liked the shape of the tail, the way it beds down and allows you to blast huge clouds of powder. The board is super manoeuvrable and perfect for dense tree runs.
White room anyone?
The Cobra carves well and long and short carves were easy and fun. As with all NS boards you need to get it up on edge to access the camber and rail the turn. With the right technique it is rewarding to carve with and I would say its a little better than the Proto HD in this area.
Its a little damper than the previous Cobra, but not by that much.
The flex is right in the middle leaning towards the stiffer side, just past mid flex.
Not quite as much pop as the Proto HD, but its got plenty of snap for ollies and nollies. It's not hard to press the tip or tail, but its certainly not ideal for this.
Switch is definitely doable, but you will need to adjust your riding a little to make it work. With some adjustments you can ride switch well.
I don't see most riders spending lots of time switch on this deck and as such I wouldn't recommend it to anyone who spends a lot of time on the park. It jumps well and can negotiate boxes, but anyone who rides a lot of park will want something closer to a twin IMO.
I found myself enjoying getting airs and grabs in natural terrain on the Cobra. This is a board I would ride when I want powder performance whilst keeping a strong freestyle element in my riding. That is the area where this board shines and I would recommend it to riders for whom freestyle in powder is a top priority.
Its also superbly nibble in tight trees. Powder, trees and natural hits are to me what this board is made to do. It can do a lot more than that, but that is where it excels.
I lent this board to my buddy on a powder day (an intermediate rider) and he loved it. He raved about the powder performance and how easy it was to turn in the powder and on piste.
The powder performance is superb for an all mountain freestyle deck, but its not as good as a full on powder deck in this area. It does require a slight bit of weight over the back foot to keep the nose up in very deep snow at low speeds, but this effort is really minimal.
A full on powder deck will out float the Cobra, but no full on powder deck will be as versatile and fun all over the mountain.
Things I would change on this board
I think the low speed, low angle powder performance would benefit from a low profile tip (in the nose only) as found on the Proto HD. I would also like to see the upturn of the nose smoothed out over a longer area as this helps float by reducing friction with the snow. I would personally like to see this board made a little stiffer and damper. That would make it slightly less playful, but better for carving hardpack, technical terrain and side country which is what I spent most of my time doing on this deck.
Conclusion
This board is best suited for someone who loves to ride lots of powder, but wants to freestyle all the way. Its great for getting air and grabs of natural hits as you shred the steep and deep. Its also a good board for carving on hardpack. It will handle everything on the mountain and you can take it through the park and off kickers with confidence, but riding switch requires some adjustments. This could be a superb quiver of 1 for someone who gets to ride powder regularly and is not spending a lot of time in the park. If I were running a 1 board quiver this would be a strong contender as its well suited to what I ride here in Japan. In many ways this board combines the playfulness of the Proto HD with the float of the Summit although it doesn't do either as quite as well as they can. Still it gets pretty close and one board costs a lot less than 2 boards.