About me
I mostly ride in Nagano although I make trips to various spots around Japan throughout the winter.
I am 6ft tall and weigh 175lbs (78kilos) in my birthday suit. I wear size 11 boots. I consider myself an advanced rider and this year I started doing some professional guide work, mostly just learning from and helping the experienced guide who I am working with.
I spend most of my time free riding in powder and trees and this is where I am most comfortable. I ride with a strong freestyle element and look to get little spins and grabs off natural hits. Since last year I have started getting into the park a little more.
This is where I ride the most, Nozawa Onsen in Nagano.
2014 Never Summer Summit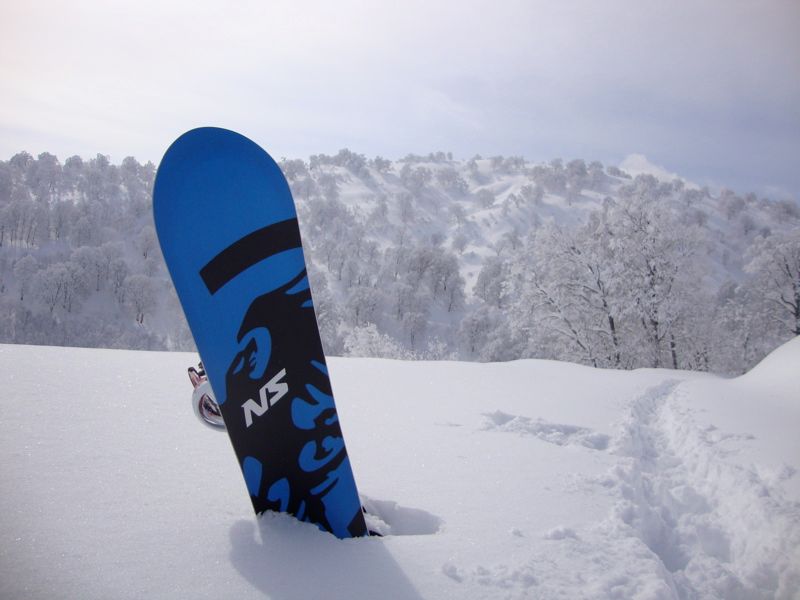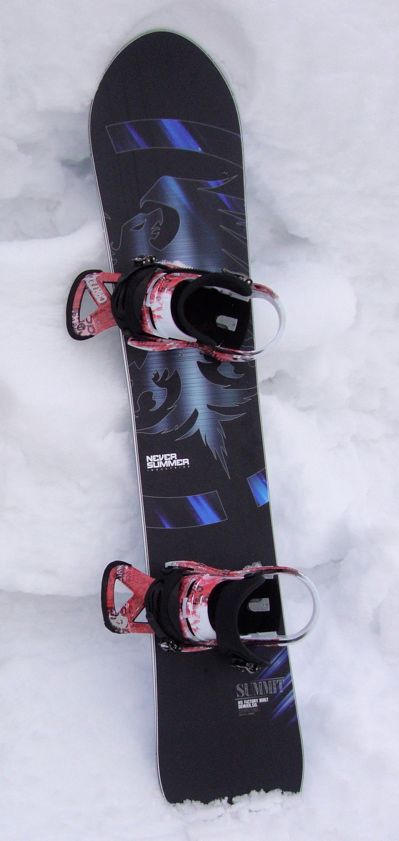 The Summit used in this review was given to me by Never Summer for product testing and improvement as well as for the review itself.
I Rode the 161 with 2011 Burton cartel bindings. I rode it on deep powder days but also took it through some hardpack and chopped up conditions to see how it rode.
This boards element is pretty clear, in deep powder it floats superbly and allows you to make your turns into an art form. Graceful is the word I would use and I got some incredible face shots and white rooms on this board. It made deep heavy powder easy and chopped up powder smooth. Big smiles on my face.
On this board I held my speed through the powder and was able to make bigger more aggressive powder slashes thanks to that speed.
With almost no effort needed to stay afloat you can really focus on your line and making those turns the way you want to.
The Summit comes equipped with a big setback and quite a bit of taper as well as lots of rocker. These combine to give the great float in the powder.
I was impressed at how light this board is, I had heard the Summit was heavy, but that is not the case anymore. My 161 weighed in the same as my 158 Cobra about 3 kilos.
The low weight is great for hiking and the boards feels light and quite nimble in the trees.
There is enough pop to get some good air and grabs off rollers and little jumps although not as good as a more freestyle oriented board.
This board had solid grip on icy traverses and a really stable feel in bad conditions. This grip on ice and stability means you deal with whatever the mountain throws at you.
Groomer performance was better than I expected and I was able to carve very well on this board. Locks into a carve and is very smooth on rougher surfaces.
Definitely more than just a powder board, I enjoyed riding on firm snow a lot. This is a very valuable feature and combined with the decent pop makes the Summit genuinely fun and capable not just in the deep, but getting to and from it. Most of us ride resorts and getting to and from powder stashes usually involves riding on hardpack, cat tracks and a variety of terrain which can be boring on some pow specific decks. Not this one.
Obviously switch is less than ideal, but perfectly doable when riding mellow groomers. I like a powder board to be able to ride switch (at least for a short distance) so I can do some powder butters. Powder butters are one of my favorite things to do in a wide open stretch of deep powder, they were easy on the Summit and I was able to throw up enormous white rooms.
It is not super stiff, but stiff enough to handle speed and bad conditions. Its a 6 on the NS scale which feels about right although the nose feels softer than the tail as it should be on this kind of deck so the front can absorb choppy conditions. This board is very damp and absorbs bumps and chopped up conditions with ease. This is really nice when you come across crappy surfaces especially with tired legs at the end of the day.

Things I would change on this board
Since this is primarily a quiver board I would like to see a cheaper version. Salomon have the powder snake and sick stick, perhaps a 450 dollar board without the carbonium?
Most people don't want to spend much more than 400 on a dedicated pow stick IMO.
I personally would change the shape and profile of the tips because as good as the float is it could be even better especially in the flats.
Firstly I would add a second stage to the rocker, right now the rocker starts in the center and goes out to the tips. I would keep that rocker and add an extra low rise rocker past the front bindings just after the camber zone. Nothing extreme just a nice gentle kick up to keep the nose pointing upwards even if you get over the front of the board in the powder. Then I would change the way the nose turns up. Right now the tip of the nose stands about 5cm of the floor. I would take that down to 3cm just like the new low profile tips on the Proto HD. I would also spread out the upturn in the nose over a longer area making the change in angle more gentle and smoother. The combination of a second stage to the rocker and a slower more gentle angle to the rise of the nose would make it float better on low angle slopes in grabby snow conditions.
I would also add a blunted low profile tail as I feel they are better for locking into presses in the powder and better to slash with.
Conclusion
The summit can do much more than just ride powder although that is its forte. It is good on groomers and super smooth and stable in a wide range of conditions. There are boards out there with more float, but often they are limited in their ability to ride hard snow and less capable in bad conditions.
The summit surfs though the powder and keeps its speed well allowing you to throw up massive plumes of powder with each turn or slash.
Riding the steep and deep was effortless and that really allowed me to focus on my line and getting that slash just the way I wanted it.
It is a quiver board that you will want to pull out on those special occasions when deep fresh lines are on the menu.